Ask Dr. Pane: Facelift After Neck Lipo? What Should I Do?
At Atlantic Coast Aesthetics, we get a lot of questions from concerned patients whose original procedures didn't meet their expectations. One example is this week's ACA Question of the Week, which we received by email. The patient writes:
"I had a neck lift, I wanted a tuck behind my ears type, found out my doctor is not a plastic surgeon, just a surgeon. I went to a referred doctor, I needed a neck lift, I wanted the tuck behind the ears. He kept insisting on lipo and laser. He said I wasn't that bad bad. I saved, saved can, now I can't look in the mirror. I'm disgusted. I was a model for years, I took care of myself, at 50 I looked 40, now at 56 I look 80. I talked to the Dr. and he wanted to cut from my chin down to my throat to cut out all the loose skin. My face looks distorted now. Can I sue? I just want it fixed or a refund. Neck is flapping, discolored."
Dr. Thomas A. Pane, our founder and Chief Medical Officer, says that the first criterion is to determine just how long ago the procedure occurred. Assuming the patient is fully recovered from the initial procedure, a neck lift would be an appropriate treatment for the issues she describes and which showed up in the photographs she sent along. Generally it is recommended to have any neck-related procedures done at the same time as the facelift, because doing one without addressing the other can leave the face looking far better than the neck. This can give a false impression of age or unhealthiness and more or less negates the benefits of having the facelift done in the first place.
However, Dr. Pane noted that just because a surgeon is not a specialist in cosmetic surgery does not automatically mean the surgeon does not possess the skill or knowledge to perform the procedure. What patients should be careful of are surgeons who try to fit patients into the surgeon's own comfort zone, which based upon the information the patient provided appears to be what happened in this case.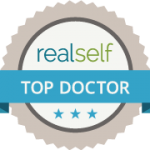 In an ideal situation, the patient and doctor consult in person and discuss the problem areas. The surgeon, working with the patient's desired outcomes, tailors an appropriate solution to the patient's needs and anatomical characteristics. No two people are exactly the same, even if they outwardly look identical in every respect, and it is imperative that this be kept firmly in mind. It is always best to consult with a surgeon who can offer a range of options and evaluate the pros and cons of each in terms of recovery time, the patient's needs and unique physiology and the limitations that exist with any cosmetic procedure.
With regards to this particular patient, Dr. Pane says the situation is far from hopeless. If the patient chooses to have a revision procedure done to eliminate the banding and sagging of the skin in the neck region, based on the photographs he sees no reason to anticipate anything less than a full recovery and ideal patient outcome. However, it cannot be stressed enough that photographs and a verbal description of the situation are not a substitute or replacement for an in-person clinical evaluation of the patient's current situation versus the desired outcome.
Choosing a cosmetic surgeon should always be undertaken with care and due diligence on the part of the patient. The surgeon should inspire trust and confidence in the patient while offering the broadest possible range of solutions to the problem at hand. Patients are strongly encouraged to check out any surgeon's credentials, experience and track record independently to evaluate for themselves whether the surgeon is likely to meet their needs. Most importantly, if the patient feels pressured or "pigeonholed" into a given procedure or set of procedures, this should normally be treated as a red flag, because it may indicate that the surgeon has only limited experience and is trying to work within their own comfort zone without regard to the patient's needs or well-being. This does not always hold true, and ACA does not comment on the relative skill or ability of any surgeon operating outside our own practice. However, in situations where the patient feels this sort of dynamic may be in play, they are strongly advised to seek out a second opinion for verification purposes.
If you have a question about cosmetic surgery and have been wondering who to ask, Dr. Pane and the staff of ACA are always glad to answer any questions, comments or concerns you may have. The only bad question is the one you don't ask, so simply follow us on Facebook and Twitter, call us at (561) 422-4116 or visit our website at http://acplasticsurg.com to learn more about our practice and keep up with the latest news and information about all facets of cosmetic surgery. Your question could be answered live by Dr. Pane himself in an upcoming Google Hangout as ACA's next Question of the Week!






*Individual results may vary