Body Mass Index is 35 Is It Safe To Get A Brazilian Butt Lift?
"Looking For A Doctor In The Florida Area Who Will Do My Surgery…"
The human body is astounding in its basic similarity amongst all human beings and its simultaneous complexity and variety. What's even more amazing is the variety of ways in which the body can be changed, shaped, altered and resized to suit individual aesthetics and needs. Brazilian butt lifts are only getting more popular, which means that we at Atlantic Coast Aesthetics receive a lot of questions about them, such as this week's ACA Question of the Week. The patient asks, "I just recently lost 35lbs and not really wanting to lose any more weight. I have no medical problems such as diabetes, high blood pressure. I did have a hernia removed 13 years ago….3 kids but never had a c section. I know most doctor wants your Body Mass Index at 30 or below. Mine is 35 [and I'm] looking to receive a bigggggg booottty [sic]. Please help me understand whether I am a good candidate for a bbl. If in the Tampa area what's your price? Thanks." Dr. Thomas A. Pane, our Chief Medical Officer and founder, decided to take on this question because it offers valuable insight into not only what criteria cosmetic surgeons use to evaluate these cases, but also to weigh the relative pros and cons of having this procedure as a larger woman.
The patient has a BODY MASS INDEX of 35 and submitted some photographs. Body mass index, or BMI, is a combined measure of height and weight and varies based on those two factors. Over 30 is considered getting into the obese range, with 35 a little a higher and 40 is getting significantly beyond what is generally considered a healthy weight. However, BMI is all relative with regards to cosmetic surgery because when you talk about liposuction and fat transfer procedure, two of the most important criteria include how much fat is available and what the skin looks like. Brazilian butt lift is a lipsuction fat transfer procedure in which the adipose tissue is moved to the buttocks. In these procedures, it's actually helpful to have a good amount of fat to take, especially if you want the buttocks to be made moderately or substantially enlarged.
The short and simple answer is that a BMI of 35 is not automatic disqualification from the procedure. However, depending on any other medical problems, it can be preferable to lose some weight before undergoing cosmetic surgery in some cases. In this case the patient has no other medical problems, so a BMI 35 is not going to be a contraindication for Brazilian butt lift. However, Dr. Pane notes that he always recommends being seen by the surgeon in person and having a full medical examination to make sure that there nothing else going on that may cause issues which may prove to work against a successful outcome.
Actually, Dr. Pane says, the factor that is most important is the relative condition of the airway, which is more of an anesthesia concern. From a purely surgical standpoint, given a surgeon who knows what s/he is doing and is careful, BMI alone does not automatically rule out somebody for most types of surgery. The procedure can even be done under general anesthesia with a BMI of up to 40. Patients who exceed that level are required by Florida law to undergo the surgery under local anesthesia only due to the increased risk of complications.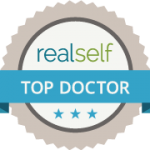 Generally, at a BMI of 40 or above most surgeons will want the patient to try to lose some weight beforehand because of the potential issues that can develop. With all this being said, given that the surgeon performs a high volume of procedures and is experienced in handling people of different medical backgrounds, shapes and sizes, BMI does not need to be a bar to any particular cosmetic procedure in and of itself.
If you have a question about cosmetic surgery of any kind, Dr. Pane and the staff of ACA are more than happy to discuss your questions and concerns. Simply call us at (561) 422-4116, visit our website at http://acplasticsurg.com or follow us on Twitter and Facebook! Your question could be ACA's next Question of the Week, which Dr. Pane will answer live in an upcoming Google Hangout, helping us to educate other patients who have the same interests, concerns and questions you do. Remember, at Atlantic Coast Aesthetics, we believe the only bad question is the one you don't ask!






*Individual results may vary